Application Information for the Credited Auditors in AY2018
Application Information for the Credited Auditors in AY2018
Application Information for the Credited Auditors in the academic year of 2018 is now available on the University's official website (in Japanese).


(*Application for Spring term has been closed.)


○URL: https://www.tsukuba.ac.jp/admission/auditors/index.html

Those who would like to attend the courses as a Credited Auditor, please follow the guidelines for Graduate Programs (indicated as "科目等履修生(大学院)") and make sure that you submit complete documentation within the designated period.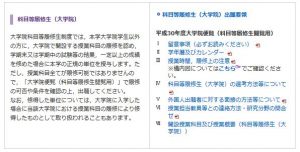 Application Period

(Fall term ONLY)

: Tuesday, July 3, 2018 ~ Thursday, July 5, 2018
*By postal mail: Documents must be delivered no later than Thursday, July 5, 2018.
*Submit in person: From 11:00 to 18:30


MBA-IB course list open to the Credited Auditors is available here.

Application guidelines and course list are also available at Academic Service Office.
○Access: http://www.office.otsuka.tsukuba.ac.jp/wp/location