Global Networking
Campus open to the world
Our program seeks to nurture a global perspective in our students. Joint-lectures with international universities using our state-of-the-art e-learning system are one method for achieving this goal. Through this program students are able to interact in real-time with both faculty and students abroad to share and enrich their knowledge.
MBA-IB connects online with leading international business
schools and overseas assistance agencies to broadcast and receive in real-time a wide range of international courses. MBA-IB also conducts admissions interviews and student presentations using webcams and other ICT tools.
| | |
| --- | --- |
| | Actual Cases |
| | Scenes from the joint-course with overseas partnership business schools |
Full-time faculty members
MBA-IB boasts an international faculty body with nearly half of our instructors coming from outside Japan. The faculty body also comprises both academics and business practitioners with vast international business experience.
Visiting professors and lecturers
Every year MBA-IB invites professors from leading international educational institutions to provide first-hand knowledge of the emerging global business environment and international cultures.
| | |
| --- | --- |
| | Visiting Professors: Anthony Hayter (from USA), and Chaipong Pongpanich (from Thailand) |
| | |
| --- | --- |
| | Visiting Professors: Franz Waldenberger (from Germany), and Chris Brewster (from UK) |
| | |
| --- | --- |
| | Visiting Professors: Irina Petrovskaya (from Russia), and Donald Louis Amoroso (from USA) |
| | |
| --- | --- |
| | Visiting Professors: Keith Coats (from South Africa), and Nicholas Barker (from USA) |
SCB Future Leader Challenge @ Sasin
The MBA-IB team, 'Team Hori' made it to the semi-finals of the SCB Future Leader Challenge case competition jointly organized by Siam Commercial Bank and Sasin Business School held in Chonburi and Bangkok from 25-29 June, 2019. The semi-final round comprised three stages, a 5-hour short case, a 99-second pitch and a 24-hour semi-final round case.
Team Hori, comprised of Iori Konda, Norihiko Sato, Healtha Padmanusa and Hua Li was the only team from Japan that made it to the semi-finals. Congratulations to Team Hori for their achievement!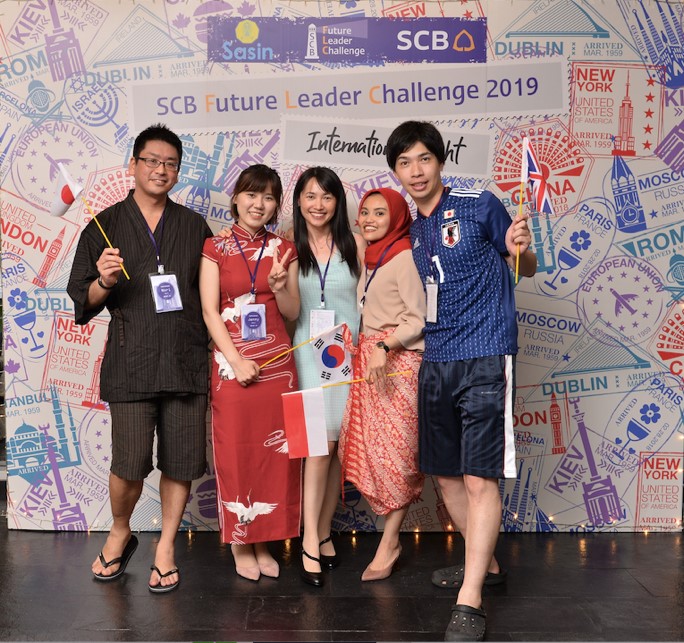 Team Hori and Associate Professor Dr. Caroline Tan
(from left to right: Norihiko Sato, Hua Li, Assoc. Prof. Dr. Caroline Tan, Healtha Padmanusa, Iori Konda)
Overseas Business Studies Seminar
This year, our students went to Switzerland for the completion of the course. As with the other years, they were assigned different research topics that they worked on and ultimately presented to the various companies and organizations.
Our heartfelt gratitude and appreciation to the Global Fund, Skioo, UEFA, Loanboox, SEBA Bank, and Sonect for their time, not only working with the students on their research topics but also for their warmth and hospitality during out visit.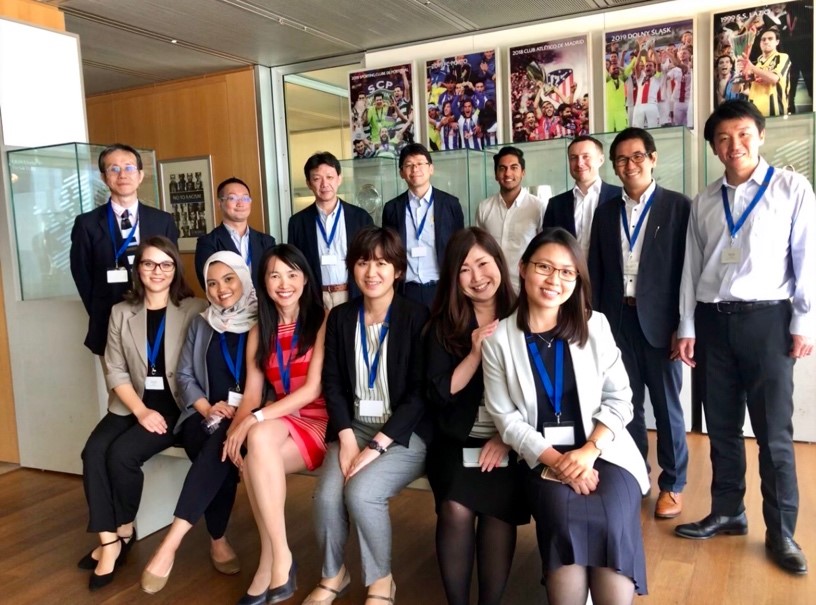 (front row; left to right): Emel Yildiz, Healtha Padmanusa, Assoc. Prof. Dr. Caroline Tan, Sachiko Fukumoto, Tu-Dung Thi Nguyen.
(back row; left to right): Hiroo Suzuki, Yoshinori Ota, Atsushi Yoshida, Tokuo Kaneda, Amit Desai (Innovation Strategy, UEFA), Thomas Junod (Head of UEFA Academy), Tetsuya Tokoro, Ippei Fujita.
Student Presentations and Discussions at the various companies/ organizations