MBA-IB Faculty Profile
Benton Caroline F.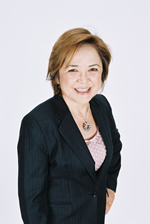 Professor
Business Strategy Area
Teaching:
Business Strategy
Global Leadership
Technology Management
PhD Tokyo Institute of Technology
MBA University of Tsukuba
BS University of California, Davis





Caroline Benton was appointed as Vice President of Global Affairs of the University of Tsukuba in 2013, after serving as chair of the university's MBA Program in International Business. Her research interests lie in knowledge management and global leadership; her research projects include a 12-country study on the learning mechanism of global leadership competencies, a comparative study on global-mindedness in youth, and most recently a Japanese government-funded study on well-being and happiness in corporations.
In addition, she is Director General of the university's Global Commons, and serves on the Japanese Association of National Universities' International Exchange Committee, the International Olympic Committee's Education Commission, the Research Organization for Information and Systems' Education and Research Council, and the Nara Institute for Science and Technology Management Joint Council. She has been working with regional governments on various committees, including the Ibaraki Prefecture's Master Plan Committee, and Tsukuba City Overcoming Population Decline and Vitalizing Local Economy Committee.

Recent publications include the following.
Magnier-Watanabe, R., Benton, C. F. Uchida, T., Orsini, P. (2018) Designing Jobs to Make Employees Happy? Focus on Job Satisfaction First (Dec. 11, 2018), Social Science Japan Journal, Volume 22, Issue 1, Winter 2019, Pages 85–10
Magnier-Watanabe, R., Uchida, T., Orsini, P., & Benton, C. F. (2018). The Mediating Role of Subjective Well-Being on Organizational Virtuousness and Job Performance: A Comparison between France and Japan. Journal of Strategic Management Studies, 10(1), 5-18
Watanabe, R., Benton, C., (2017) Knowledge for Translating Management Innovation into Firm Performance. In: Uden L., Lu W., Ting IH. (eds) Knowledge Management in Organizations. Communications in Computer and Information Science, vol 731. Springer, Cham
Nagai, H., Benton, C., Tsubaki, H., Kino, Y. (2016). Behavioral Traits, Methods and Assessment Required to Develop Global Leaders. Organization Science, 50(1), pp. 25-35